Very rarely do I go back to the same place twice (except Rome!) but when I heard my college friend Christina, her husband and little girl were headed to Portugal over the Christmas holidays I was quick to suggest we join them in Lisbon.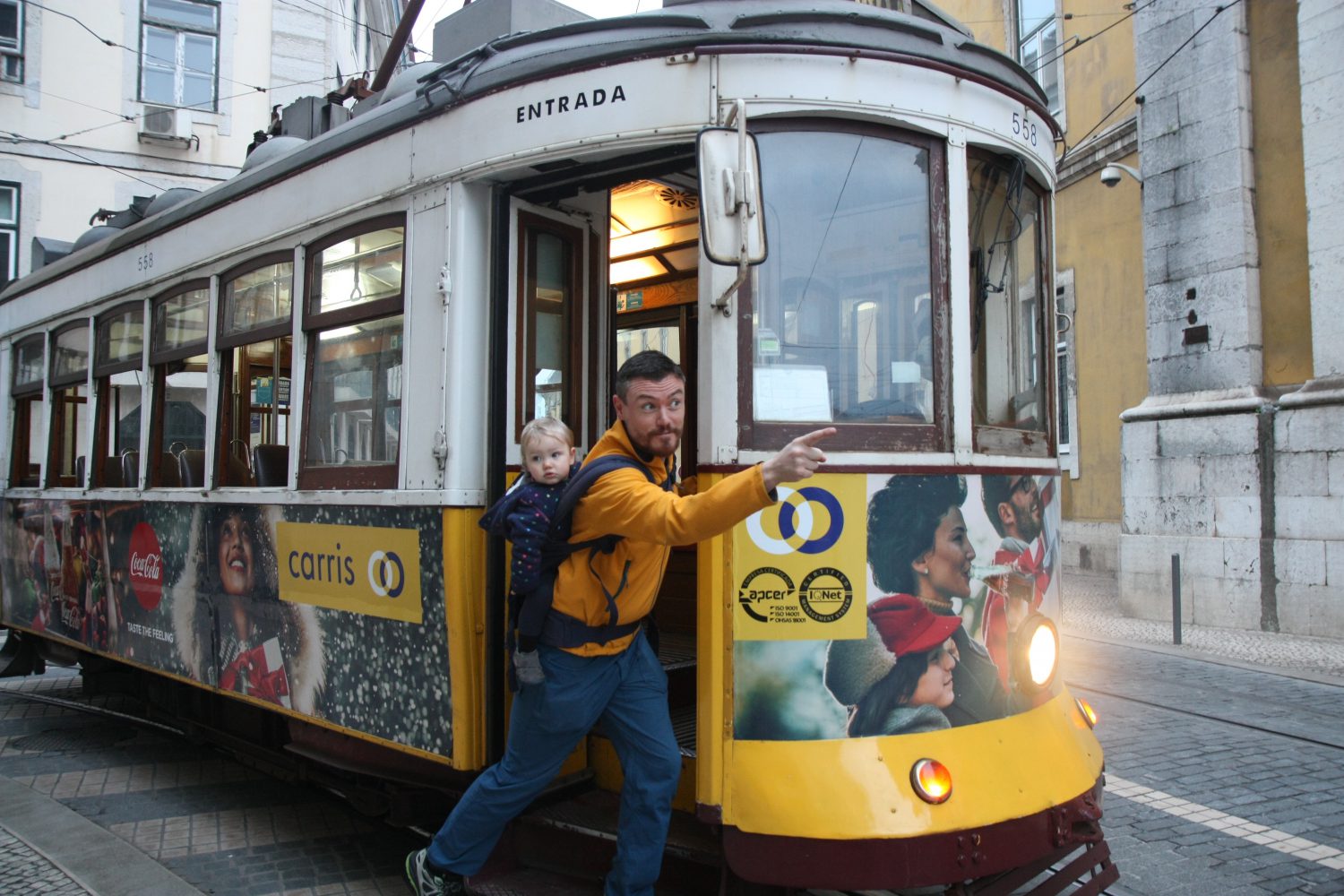 Thursday 28th December
On December 28th, with our eyes barely open, we headed to the airport at 4am (no thanks to Ryanair). Elara was beside herself with joy at the airport, as airplanes are her current favourite. She did great on the plane for such a busy little girl. We arrived in Lisbon at 9am with a few hours to kill before we were able to check into the AirBnB. We found a fantastic Cafe, O Cocho, across from our apartment which boasts some of the best Empales (savoury pies) in Lisbon.
Our AirBnB was a little bare bones for a group of 6, especially with 2 toddlers but it served it's purpose and the beds were comfortable. After a delicious meal of Duck for Mick and Octopus for me (Elara loved both too!) we headed back to the apartment to meet up with our Friends. We spent the evening catching up over a few glasses of wine.
Friday 29th December
The next morning, we walked around our neighbourhood to get our bearings and then headed back home after lunch so the Little one's could get a good nap in. Then the fun began. With everyone rested up we made our way towards the Crown Jewel of Lisbon, it's Oceanarium. We remembered it fondly from our visit with my Niece in 2014 and a return visit didn't disappoint. That night we stayed in and played Acquire, a new game to us. Needless to say, Mick won (insert smug smile). 
Saturday 30th December
We started Saturday off with a leisurely breakfast out and then headed back to the apartments so the little one's could get a good nap. They needed it too, cause next we headed into the city where the NYE festivities were already beginning. There was a large stage and music set up in the main square where the girls (and a few of the parents) got their boogies on. We then parted ways with our friends for the day and Mick and I headed up to revisit Lisbon castle, the Castelo de Sao Jorge. We wound our way up the narrow cobblestoned streets and stopped at several view points, remembering our previous adventures from 4 years ago. At the castle we stopped into a very small restaurant for dinner. At first I'm not sure they knew what to do with a toddler, but we were old hands at having dinner out with a toddler at this point. In Rome we realised the Ergo doubles nicely as a travel table seat. We talked to the chef and she made up a special meal for Elara, fish, potatoes and rice. All the food was delicious. And as usual Elara made lots of friends. It was a lovely end to the day.
Sunday 31st December (NYE)
Our last day in Lisbon was spent exploring the city some more. We just had to revisit Rossio Train station where we stayed at Destination Lisbon in 2014. It was voted one of the best hostels in the world – and I can confirm it's one of the best I've ever stayed in. Then, it was on to eat Lisbon's best pastry the Pastel de nada – I could eat these every day, all day. The pastries are a small creamy custard egg tart. The recipe dates back to the 16th century! The tarts were originally made at the Jerónimos Monastery which was the next stop on our sightseeing list. The Monastery was absolutely stunning. But Elara made it the highlight of our trip, she ran screeching around the spacious halls and played peek-a-boo behind the beautifully carved columns. She was in her element! that evening we watched the sunset just behind the historic Belém Tower. 
NYE – not quite what it use to be when you have a toddler. We celebrated over a few glasses of champaign and some fancy take away pizza with our friends, very shortly after 12 we all headed for bed.
Monday 1st January (NYD)
Welcome 2018 and back to Dublin for us. Our flight was at noon so we had loads of time to make our flight, but even with that we got there with only 30min to spare! Just enough time for one last Pastel de nada. So long Lisbon, I have a feeling we'll be back again.
See the full photo album here.
SaveSave
SaveSave
SaveSave
SaveSave