The Inca Trail – four days of serious hiking, battling altitude, passing stunning ruins, sleeping under the stars and culminating with the ancient Incan city of Machu Picchu.
Access to the trail is controlled strictly by the Peruvian government — only 500 permits per day are issued (including guides and porters) and only authorised tour companies can receive permits. So finding the right company, a day that suited us, permits available, and finding flights in our budget made for a bit more planning than a normal holiday.
After talking to a lot of friends and reading reviews we decided to book with G-Adventures. They were great in working with us to secure the permits and a timeframe that worked for us. We booked their package "Amazon to the Andes" including the Inca Trail and a tour of the amazon jungle – a specific interest to Mick. We were keen to get a bit of time on our own so we booked an additional 5 days in Cusco to explore the area.
Day 1-2
On April 19th we set off on an adventure of a lifetime to hike the Inca Trail in Peru. Dublin to Paris to Lima we arrived late on Sunday evening where we caught a cab to our pre-arranged hotel, La Castellana Hotel. Once there we found that our flight to Cusco (booked through G-adventures) left at 5:30am the next morning. Exploring Lima would have to wait. Blurry-eyed, we met our group for breakfast and headed back to the airport from where we had just come from less than 8 hours previously. The flight to Cusco was an easy one, our first glimpse of the beautiful, vast, Andes ending with an amazing landing – the plane nearly turns 90 degrees curving around mountain peaks.
Upon arriving in Cusco, the altitude was immediately apparent, we found it hard to breathe and even picking up our back pack from the conveyer belt felt a chore. We arranged with G-Adventures that we'd meet back up with them in 5 days time to start our tour – for now we were off to Intro Hostel for 5 days to explore Cusco on our own. We grabbed a taxi to our hostel where we dropped our bags and hit the town! Within minutes we found ourselves on an introductory free walking tour of Cusco. The tour lasted nearly 2 hours and took us up and down side streets, to the major sites, ancient squares, we got photos with llamas, went to a natural healing centre and to a hand-made instrument workshop, we drank pisco sours and ate ceviche. All this before 2pm! In desperate need of a siesta we headed back to the hostel for a snooze. Refreshed we headed back to the main square for dinner at a Pizza place recommended to us called La Bodega, wood fired pizza and local craft beers, perfect!
The next 5 days followed the fast pace we had set on the first.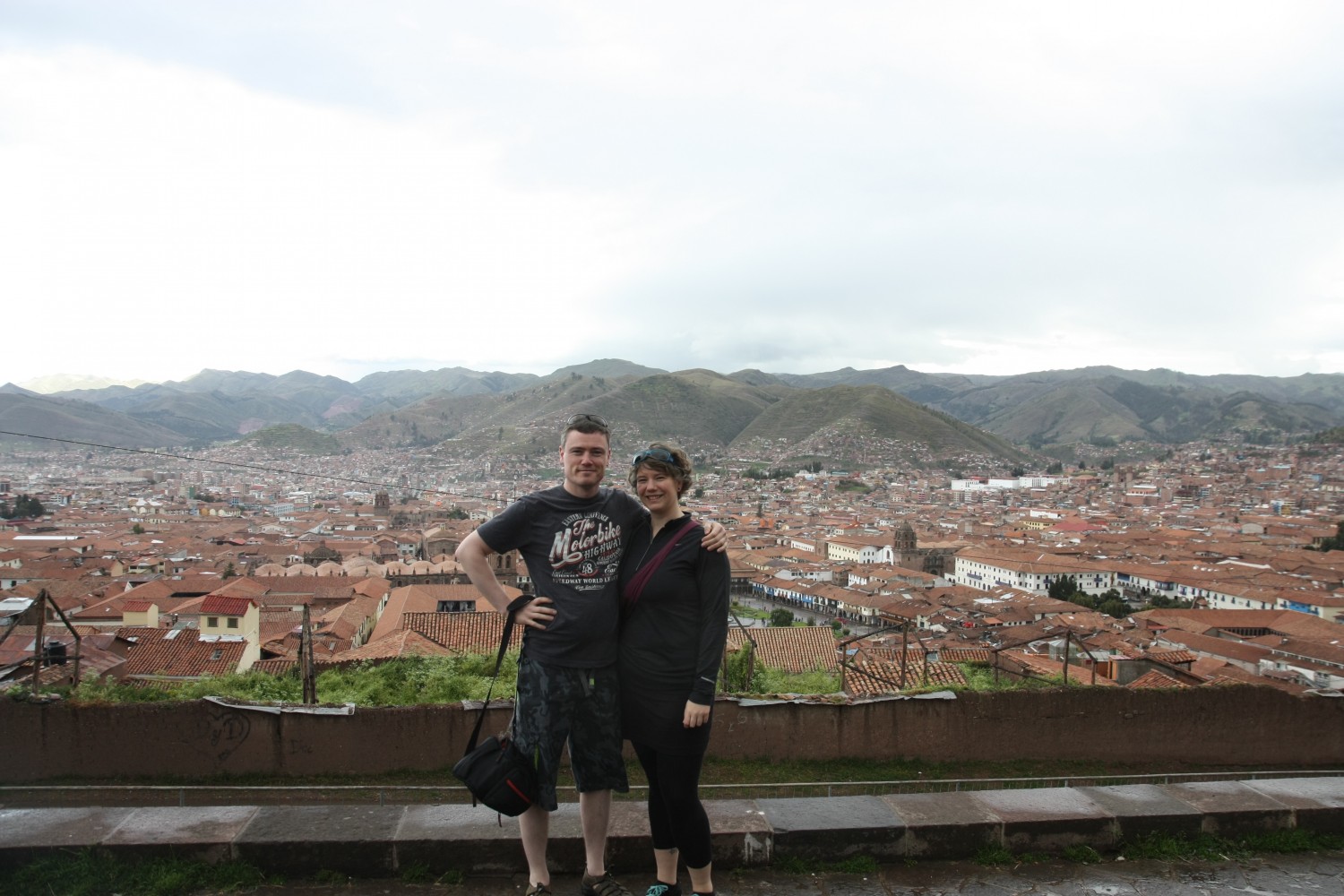 Day three
We joined Rafting Peru for a day of whitewater rafting on the Upper Urubamba River. This was my 4th time whitewater rafting but Mick's first – he was in for a surprise! The river was non-stop class II, III and III+ rapids. We both loved it. Once back at their lodge we relaxed in the sauna followed by lunch. The adventure wasn't over yet, as they had zip lines across the river set up for us – more fun! Once back in Cusco we went to Nuna Raymi just off the main square for dinner. I had an Alpaca Steak which was to die for and Mick had the Lomo Saltado, also delicious!
Day four
After a bit of an early walk around town, visiting the San Pedro Market and the Inca Museum we joined a half day tour of the city and it's outskirts.
Our first stop was Qoricancha – Temple of the Sun. Here we learned about the Incas and their beliefs and that Cusco was the centre of their world, and this temple, the centre of that world.
We then hopped back on the bus and headed up the side of one of the mountains that overlooks Cusco. At the top we stopped at Saksaywaman, dating back to 1100 and it is now a UNESCO World Heritage site.
Tambomachay was next on the tour. A temple to water high in the Andes.
As the sun began to set the bus headed towards Puca Pucarawhere we just caught the sun heading down behind the mountains
Just around the corner was Q'inquwith our smartphones alight we all headed deep into the cave where sacrifices and mummification took place.
The final stop on the tour was a traditional weaving centre, where we learned that valuable lesson of how to tell the difference between Baby Alpaca (the softest) Adult Alpaca (still very soft), Partial Alpaca, wool mixes and plastic. This information came in very handy while bargaining in the markets. Mick picked himself up a beautiful new Alpaca Jumper.