Up early to day. I had a very hard time packing everything, nothing seemed to fit into my bag (perhaps I didn't want it to). Eventually I headed to the small restaurant for breakfast, where Rebecca had already eaten. I had an omelette and coffee, then Maat tallied up our tab. It came to €40 each for the 4 days, including accommodation, food and drink. Amazing. We said our goodbyes and promised to come back, then headed over to wait for our ferry, we passed the waiting time searching the beach for more beautiful shells.
Finally we saw the ferry coming in the distance. Along with a few other passengers we all boarded a longtail boat, that would drive out to meet the ferry. As we got closer to the ferry we noticed several other longtail boats coming out from other areas on the island, this was quite the scene! It felt like a race. When we pulled up beside the much larger ferry, you could see the fear in some of the passengers eyes as the boat hands casually threw their luggage from the small boat to the bigger one. We all then climbed aboard and waved our final good bye to Ko Jum.
An hour later, around 9:30am, we pulled into Krabi Town harbour to begin our next adventure. Krabi would be one of the larger towns we'd stay in, so we decided we'd go by the 'good book' and book a hostel. We took a taxi to Pak-up hostel and booked a room in a 8-bed female dorm room. There was only one other girl in the room napping when we arrived. Quickly and quietly we unpacked and then headed back downstairs to try to book some activities for the day. Lucky for us, there was a Sunset tour leaving at 12 noon, which was only a half hour wait. Just enough time for thai iced coffee and a sunscreen run. Our pick-up arrived promptly on time (as they do!) but I was 5-min late getting back and got a disappointed look from the driver, oops.
Once on the road, we picked up a few more people and then drive to Ao Nang dock and waited, and waited, and waited. Hurry up to wait. After an hour and the last couple to join the tour showed up and finally we were off!
We were to visit 5 islands today and the first one up was Ko Poda. On our way there we passed Railay Beach and cruised passed the large rocks famous with rock-climbers, the boat stopped momentarily while we all watched several tourists scaling the side of a huge rock and jumping off. Our large boat docked just off shore and a long tail boat came out to pick us up. The beach was very busy and dirty. There was a restaurant on the island but it cost to get into!? However there was a longtail boat set up as a fast-food bar where you waded out up to your knees to order anything from ice cream to pad-thai. Rebecca secured us a relatively litter free patch of beach while I joined the queue for some grub. I ordered us beers smoothies and pad-thai. This took forever, I wasn't sure if they'd forgotten my order but I waited for 20 min in the beating sun. The wait was worth it (or I was starving). We then  hit the water for a relaxing swim. I dried off in the sun while R had a walk around the island. Before we knew it we heard our guide calling us back. Back onto the boat and onto the next island.
The next island was more of a drive-by than a destination. Chicken Island looks like, a chicken. With a large rock jetting from the top to form the head and a larger rock behind for plumage. Cluck, cluck. Unimpressed, we headed to Ko Si for some snorkelling. Fantastic snorkel spot, so many fish, everywhere. But once again, my mask was an annoyance. I still managed to get around the small island and view some amazing fish. On the other side of the island, the current was quite a bit stronger and the fish disappeared, they were replaced by jellyfish! I swam hard against the current, between to large rocks (mini islands themselves) all while trying to avoid the thousands of jellyfish. These jellyfish don't sting (much) but it's still unpleasant to swim into them and not very nice to them! Finally I the boat was in eyeshot. Shortly after I boarded, Rebecca also came aboard. We dangled our feet over the edge while the fish nibbled at them!
After all were aboard the boat, we headed back to Chicken Island for even more snorkelling. The side of the island we were on, was not sheltered much and the waves were much larger than in other places. I jumped in and my snorkel mask immediately filled with water, while trying to fix it, wave after wave crashed over my head. After several tries to fix my snorkel I gave up and got back on the boat. Rebecca swam around a bit but said it wasn't as good as the previous spot so I didn't feel too bad.
Ko Tub was our next destination. Here it was planned to have a bbq on the beach while watching the sunset, along with every other tour that day, the very small island was packed. But it was well worth it. Dinner consisted of shrimp/chicken kebabs with rice and chilli sauce. Then the sunset began it's show, it was spectacular. As the sun sunk into the ocean we began to see specks appear in the sky, they soon joined together to for a giant black mass that moved across the sky. Bats were migrating from one Island to the other, what an amazing site! Once it was dark it was the guides turn, they brought out torches and put on a fire show. They all took turns spinning, juggling and breathing fire. While they were performing, I overheard a rather intoxicated guy next to me ask one of the guides where the bathroom was on the island, the guide pointed to the ocean with a strange look on his face. Haha!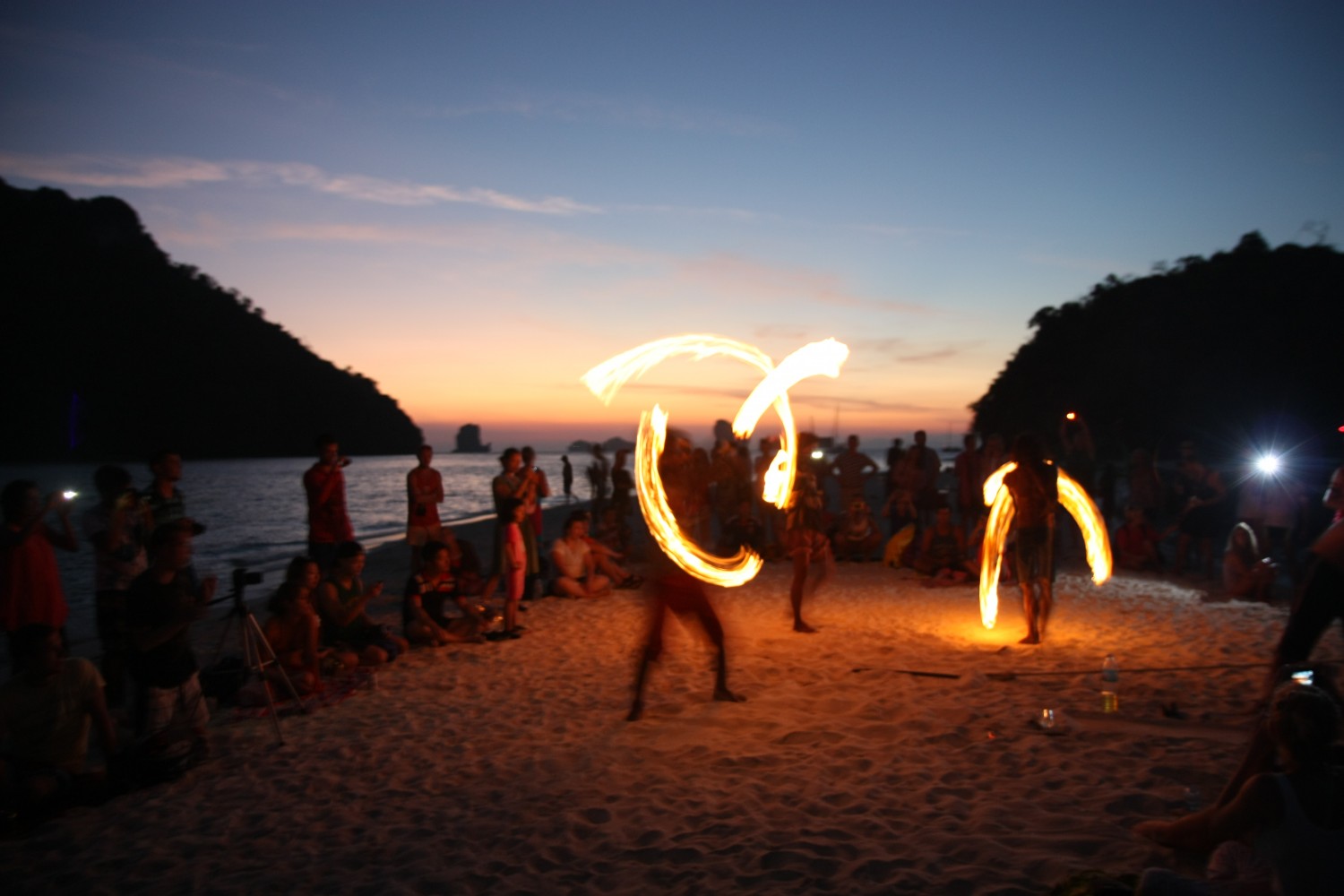 After dinner, we all boarded the boat for one more stop, Phranang Cave. After a short distance the boat stopped, at this point its as pitch black out, around 8pm. Our guide gave a quick speech, told us to jump in and follow him. We were all a little confused/nervous as we had no idea where we were going and couldn't see anything. But as time ticked away our guide kept swimming away from us, we better act fast if we were to get to see this! We decided it would be best to put on life jackets, simply for visibility. I grabbed one and popped it on, and it popped off. Grabbed another, size xsmall, another, small again. By this time I was nearly the last on the boat, finally i grabbed a large one and began to adjust all the straps. There were two people left on the boat with me, a french girl and a man – the other half of a lovely Aussie couple who we'd chatted with throughout the day. He was also having problems with his jacket, we helped each other and dove in, the french girl was too nervous to join. Once in the water we were a little lost for where to go, but then we saw a few in florescent spots in the distance (other life jackets) and we began to swim towards them. Then it was a game real life of Marco-Polo (Rebecca-Judy). At first when I yelled 'Rebecca' there was no reply, but as I kept swimming/yelling and finally I heard a faint 'judy' in the instance, then it got louder! I found Rebecca near the entrance to a cave.  She led us into the cave and under a rope, where we found what we had come to see. When you placed your snorkel under the water and agitated it, little specks of light appeared – fluorescent algae. A trail of sparkling dust followed you wherever you went, beautiful! We were the last three left in the cave, and when we noticed everyone else had gone we decided we better head back. We left the cave casually chatting about how amazing it all was, then floated on our backs to be even more amazed by the stars above (more sparkles!) we could see the entire galaxy. If I have a favourite moment of the entire trip, this was it. I've never been happier or more mesmerised in my life. However that was broken by the sound of a whistle, from our guide calling us back to the boat. Reluctantly we rolled off our backs and started swimming back.
A 30min drive back to our hostel, a quick change and we were gonna hit the town. We headed up to our room all a flutter with the fresh memories of the day. When we reached the room, every bed was full, with sleeping girls, it was 9pm, NINE PM! Why was everyone asleep? Perhaps they were napping before a big night ahead? We quietly changed and showered and headed out to the local night market. First we bought some Kanom Krok (little pancake) a friendly woman in front of us in the queue, made a few suggestions and then ordered for us from the ancient man hovering over the stove. They were delicious. Rebecca then opted for some coconut ice-cream but I wanted something savoury. We ordered noodle soup and shredded pork  from the stall next door, after an extremely long wait we finally got some food but not what we ordered, oh well.
After the long and exciting day we decided a massage was in order. We walked around town but couldn't find a parlour that was open. Finally we gave up and decided to head back to the hostel where we had some cocktails and back to our room, where everyone was still asleep!
So far Krabi was a huge success, the town itself is nothing special, but the activities around it could not be rivalled! One day left on our adventure and we were gonna make the most of it.