Up at 8am and back to our favourite little coffee shop to start our day and then on to the local market for a breakfast of fruit and spicy tofu puffs. At 10am we had arranged for a taxi to pick us up at our hotel and after a 40min drive through the thick of Bangkok traffic we arrived at the airport to begin the second leg of our adventure.
We were told that domestic flights within thailand were comparable to Ryanair. In length perhaps, but in quality it was much better! We booked with Nok Airlines and had no problems checking our bags and even received lunch and hot towels on the 1-hour flight. Once we arrived in Chiang Mai we'd no difficulty getting a taxi to the city, however there was a bit of difficulty finding our hotel. Probably because it wasn't really a hotel, The Garden Chiang Mai was actually a bar with three small rooms available but it was great. Upon arrival we met Malcolm, a 60ish expat from Australia who only moved to Chiang Mai 9 month's previous to start a Jazz bar with his wife (who was of Thai decent). He informed us our rooms were not ready yet but we were welcome to leave our bags, since it was a bar we decided to opt for a lunchtime beer. After a few beers we headed upstairs to our room, it was perfect. Twin beds, aircon with a shared bathroom, however we were the only one's booked in for the weekend.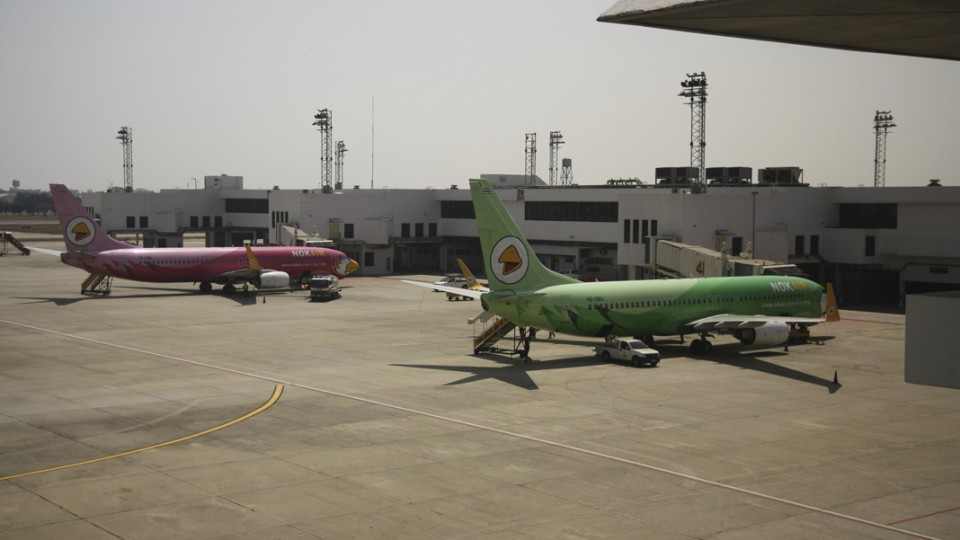 We had heard previously that during the elections there was a country wide alcohol ban. No seeing as how we were staying in a bar, they were planning to be closed for the entire weekend we were staying including the Monday, when they are normally closed. We worked out that we'd pay for a few beers ahead of time and he'd leave them in the fridge for us, then when we were leaving on Monday just to drop the keys in the letterbox. We'd known this guy all of an hour and he'd already given us the keys to his bar and trusted us to 'lock up'. In fairness we are very responsible people. However we were a little bummed as it meant the bar and the entire city would be very quite while we were there.
We headed across the street to a restaurant for food, I had a great red curry and Rebecca had Pad Thai. Then we headed down the main street and crossed through the city walls and over the moat (which is in a perfect square around the old town). We were looking for a TAT office to book further tours for our trip but instead found the most amazing massage parlour were we had the best foot massages of our trip.
Continuing on with our meandering we found ourselves at the entrance to Chinatown. We didn't realise we were in for a treat, as it happened to be Chinese New Year. There were several stages set up for performances, the first we stopped for was a set of young girls performing traditional Chinese dances. While waiting for the act to get going, I met some other tourists who were more than eager to share their bag of grub worms with me. They tasted like crunchy fried salt. After that tasty appetiser i got some sushi and dumplings (living very dangerously buying sushi from a street vendor!)