Today we had arranged to go to the Elephant Nature Park just outside Chiang Mai. An early start at 7am, we headed over to the local 7-11 to grab a quick dim sum for breakfast. A van picked us up at 8:15 and we met our guide for the day named Sy.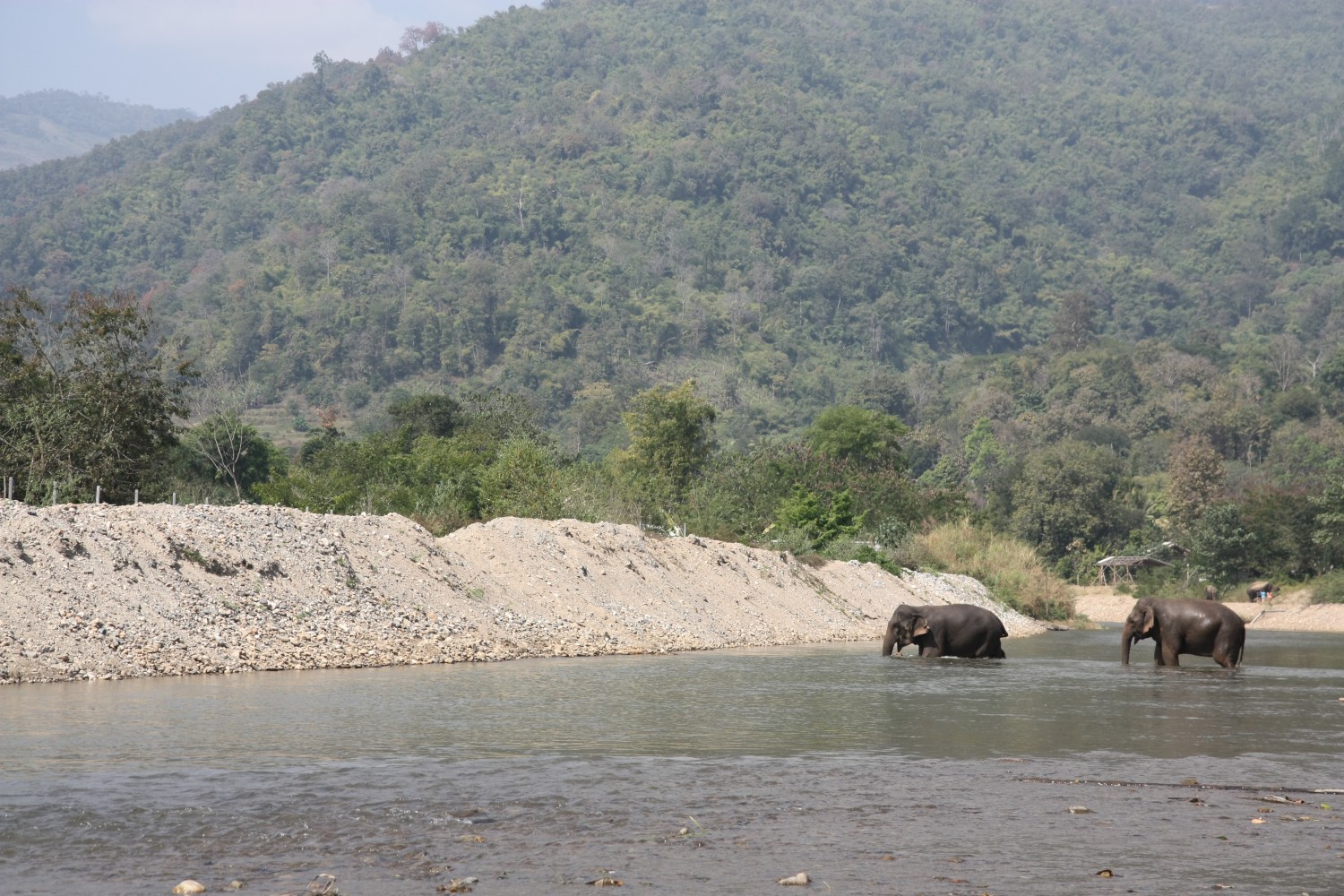 On the way they showed us the cheesiest video about the park, which probably would have been cool if I was 16 and from California, or D4. We learned that the park was established in the 90s by Lek, a Thai woman who has dedicated her life to saving elephants. Lek rescues as many abused elephants as she can and brings them to her sanctuary, where they are given medical treatment and left to roam freely around the grounds. There are also over 400 dogs on the park grounds along with water buffaloes and more other animals. This is NOT a park where you ride the elephants unlike most of the parks in Thailand.
We arrived at the park, surrounded by forests and mountains, with a wide river flowing through. We first met the elephants from a viewing platform where they swiped watermelon and squash gently from our hands with their trunks. Sy then took us back to show us the food storage, a warehouse full of bananas, squash, watermelons and pumpkins. Each elephant eats around 100kg so with over 30 elephants there is a requirement for a lot of food (3.3 tones a day)!
We were then taken for walk around the park, where we were introduced to some of the elephants and their mahouts. We learned that each elephant will have a 'best friend' who look after each other. We heard some horrible stories of what the Elephants had experienced and how they ended up at the park; one was blinded with a slingshot by her owner after she refused to work when her baby died, another had a stepped on a landmine in Burma while another was chained up for mating; the male elephant broke her hip when he forcibly mounted her. We met Medo, with the broken hip, up close where we fed her some more watermelon and were able to pet her.
For lunch they laid out a massive feast for all the visitors, curries, noodles, salads and fruit. After lunch we went to the river to help wash the elephants, standing in the river we took buckets and splashed them over a female elephant who we were warned didn't like loud noises and how chose to remain friendless. I think Rebecca particularly liked this and the elephant seemed to enjoy it as well. We were all then brought over to a platform where a family of elephants were feeding. We could see in the middle of the herd was a baby, only 9 months old, they explained that each baby would be looked after by the whole herd, all female, with the mother and a 'Nanny' in charge. An even younger calf was kept on the other side of the park, at only 5 months old. They were kept on the other side of the park because his Nanny had her leg injured by a landmine, and if anything were to happen the the baby she could hurt herself even more trying to get to him.
Sy continued showing us around the park, visiting the elephant hospital where veterinarians from all over the world come to learn about elephants. There were two male elephants in heat at the park and had to remain in quarantine for up to 9 months! As Sy described, it makes them horny-crazy!
There was time for one last feeding before we headed back, exhausted, to Chiang Mai.
Once back in Chiang Mai, we had dinner at our hotel a few beers and a banana split! We then headed off in search of a foot massage on our way to the Night Bizarre. Unfortunately, we chose the wrong place for a massage as they were not very good and seemed to prefer male clients (if ya know what i mean…). We finally managed to find a Bizarre, not the one we were looking for, but it was good enough. We shopped and stopped for a quick cocktail. Then made the long walk home to fall into bed and dream of Elephants.