I made a promise to each of my three nieces that when they turned 16, they could come visit me in Ireland. This April, my niece, Chase, turned 16 so it was her turn. However this year was a little bit special, when she arrived in June, I would be 30 weeks pregnant. We didn't let this stop us!
Chase would be here a total of 2 weeks, and just as we did when Paige visited in 2014, we were gonna take a few days to get out of Ireland and experience a completely different culture. Our destination: The Basque Country, Northern Spain. But first we were to explore Dublin and beyond.
Dublin
We took the first 2 days to explore Dublin, visiting all the hits, St. Patricks, Temple Bar, Ha'penny bridge, The bog bodies at the National Museum. We were also lucky enough to catch the touring selection of Da Vinci Drawings at the National Gallery.
Northern Ireland
At the weekend, with a jet-lagged teenager sitting shotgun, we drove the car North towards Belfast. After a flyby of the Titanic Quarter, we continued along the coast to Carrickfergus Castle somewhere I've always wanted to check out. We then followed the Causeway Coastal Scenic Driving Route up to Ballycastle where we stayed at the Glenmore Guest House for the night.
The next day we first headed to the Dark Hedges, AKA The Kings Road from Game of Thrones. I was way more impressed with these that I thought I'd be. A beautiful natural tunnel of beach trees, you can park the car up and walk the length of them (along with the tour bus'). Then on to Carrick-A-Rede Rope Bridge, Giant's Causeway (the gem of the north), Ballintoy Harbour and Dunluce Castle. All places I'd been meaning to visit for quite some time and all were absolutely excellent.
We had planned to spend another night in Northern Ireland but we had finished my entire itinerary in about a day and a half. So we decided to save the nights accommodation money and head back to Dublin, only a 2 hour drive! We made a quick stop at Monisterboice on the way home.
Back in Dublin again we took the spare day easy and joined the animals at the Dublin Zoo.
The Basque Country, Spain
On Tuesday afternoon we headed to Dublin airport and after a 1hr 45min flight we landed in Bilbao. A quick bus trip and we were at our accommodation. We stayed at the Pil Pil Hostel, as I wanted to give Chase a taste of "Hostel Life" for hopefully her future trips to Europe. The hostel was grand, clean and very central.
That evening we met up with a friend's sister who has been living in Bilbao for the last 5 years. This was great, as she and her partner showed us around the city and introduced us to Pintxos. The next day we were up early to visit the Jewel of Bilbao – the Guggenheim Museum. It lived up to it's reputation, mainly that the building is more impressive than then contents. However both myself and Mick really enjoyed Richard Serra's The Matter of Time installation.
The Matter of Time allows the viewer to perceive the evolution of the artist's sculptural forms, from the relative simplicity of a double ellipse to the complexity of a spiral…These are unexpectedly transformed as the visitor walks through and around them, creating an unforgettable, dizzying feeling of space in motion.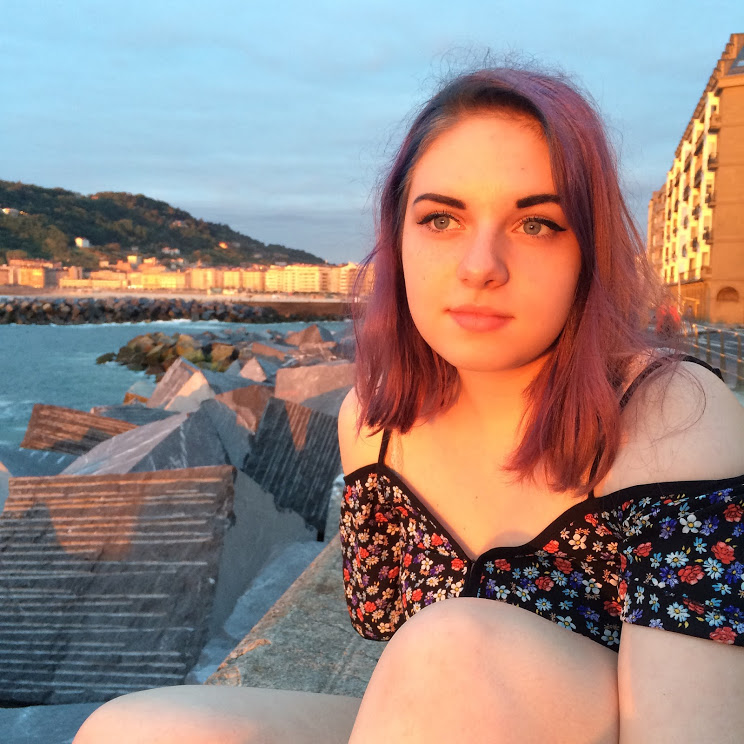 We took a stroll through old town before headed to the bus station and catching an hour bus drive east to San Sebastian. We found our accommodation, Pension Aristizabal, easy enough, just across from the bus station but on a very cute little plaza, complete with fountain. We dropped our bags and couldn't wait to check out La Concha Beach! It was as beautiful as we imagined, golden sand as far as you could see and crystal clear water, just a few steps away from the Old Town. We ended the day watching the sunset sink into the ocean.
The next day was beach day! 24° out and the water temperature was perfect for swimming and Chase and Mick rented kayaks to explore the bay. It was a perfect beach day followed by an evening of Pintxos. The next few days were quite a bit more overcast, we spent them walking around the city, the Aquarium,  Parque de Atraciones (an old amusement park at the top of Monte Igueldo) and eating a lot of gelato and Pintxos!
Our Spain trip was over before we knew it! but we had a blast and I'd highly recommend the Basque Country to anyone. Beautiful beaches and great weather, backed by mountains, what more could you ask for?

Dublin (again)
Once back in Dublin, Chase and I had 2 more days to spend together before she headed back to Oregon. We visited Glendalough, the Book of Kells and the new Epic Ireland exhibition (a steep price at €16 per head!). Then on Tuesday, it was back to Dublin Airport where we said our goodbyes (I may have shed a tear or two) and parted ways.
Here's a map of everywhere we went:
And you can see all the pictures here!