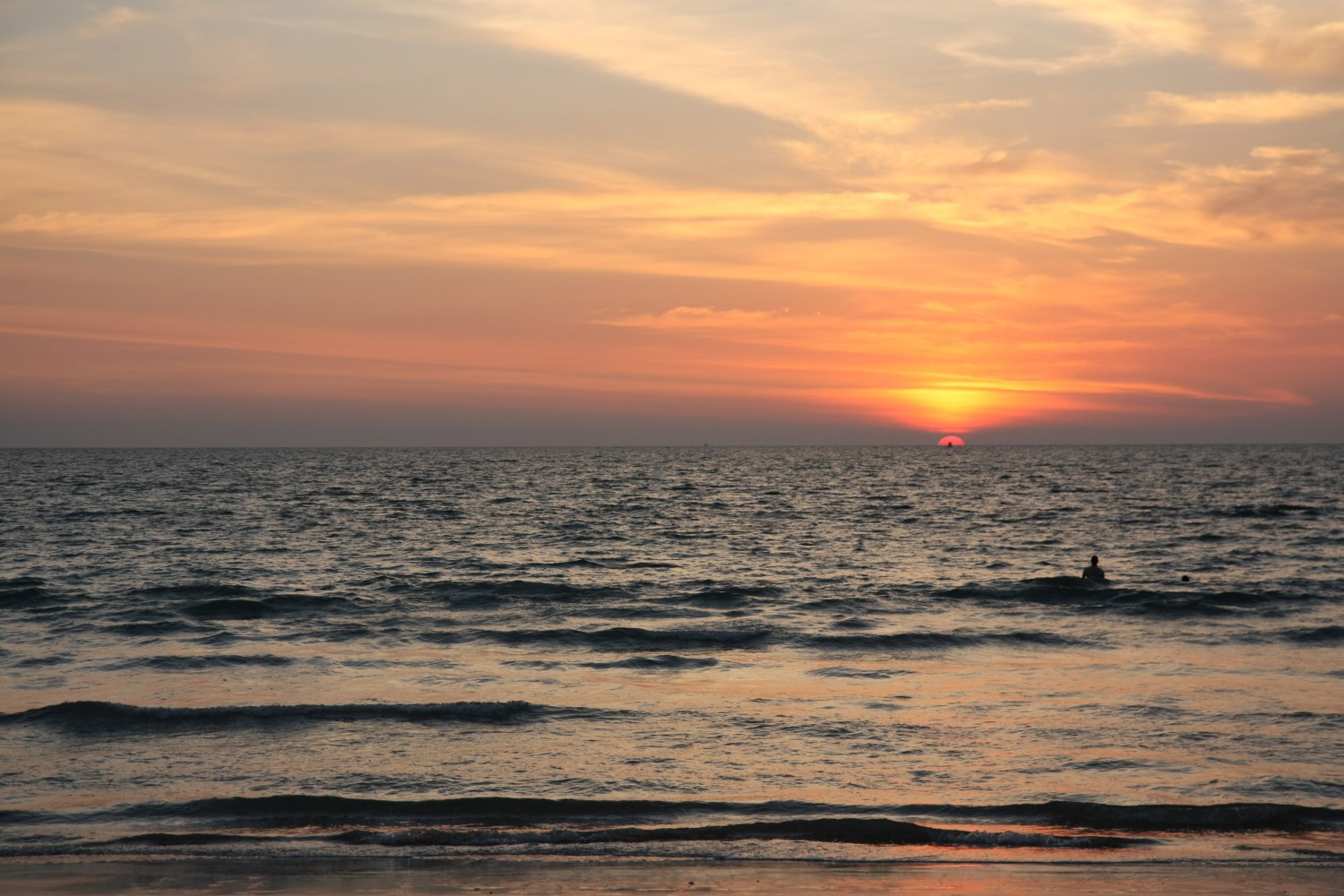 Our persistence in finding proper accommodation paid off this morning, as Rebecca woke up with severe food poisoning. If we would have opted to sleep in the bar that night, it may have been a messy start to the day. So while Rebecca visited with the porcelain friend, I trekked back into the main town to look for accommodation for the coming night. I had much better luck as quite a few places had opened up, but a private bathroom would be a necessity now. I found a place called Sukanya for only 500bt with a private bathroom (complete with geckos) and two single beds, perfect, however once again they only had one night available which mean's we'd have to move again the next night.
I headed back to get Rebecca and move our bags down the the new place. She was feeling a bit better and so was I after having secured accommodation for the next few nights. Rebecca headed off to the pharmacy to find something to settle her stomach and I headed for breakfast.  After, I headed across the street and managed to book wednesday night in a place called Otto's, this time 800bt a night but nicer and on the beach. Otto's also ran a travel agency where we booked a long tail snorkelling tour for all day wednesday and a ferry to head to PhiPhi Island on Thursday night. I also managed to secure accommodation in PhiPhi online. So things were looking up!
With the day half way over and Rebecca not in the best of form, we decided to take it easy, and caught tuktuk the 7km across the island to Old Lanta, the original fishing village on the island. The tuktuk cost us more than our accommodation for the night, at 600bt. He was a young lad without much english, but we arranged that he'd drop us off for 2.5 hours and then come back for us at 5pm. Two hours was plenty of time to walk around the old village, infact it only takes about 10 min to get from one end to the other. But we stopped in for a smoothy, strolled along the shops, stopping at a famous hammock shop, leather and clothes shops, and I picked up a lovely jade anklet.
We then decided to head out the main road and walk along the shoreline for a while. We passed many authentic 'shanty' houses with chickens, dogs, cats, kittens and garbage heaps. When we were just ready to turn and head back for the main town we came across a woman who said we simply must head another 5min down the road and try the best ice-cream in town. Ice-cream you say? We were easily persuaded. We found the place nestled in with all the other shanty houses, however this one had a sign that read Shanti-Shanti along with large writing "homemade ice-cream". When we entered the place we were met by two french men, eclectic decor, lazy hammocks,low tables and colorful triangle pillows for lounging on the floor. We said we'd been recommend to come for their ice-cream. They showed us to a table where the view as incredible. however, our 2.5 hours was now running out quickly. I popped my head back into the openkitchen and suggested that we get our ice-cream and tea to go. Oops, that was a mistake, I was told that this tea, wasn't just any tea and it needed the proper amount of time to steep, at least 5 min. Oh, okay… so I headed back and sat down patiently, watching the clock, hoping we weren't going to miss our taxi back. Eventually, the ice-cream and tea did arrive and the ice-cream was possibly some of the best I've ever had, even better than Gelato! But unfortunately, we didn't have much time to enjoy it. The owner was far from impressed when i asked for the bill as he brought out our order.
We hurried out and down the road, already 5 min after 5 and we'd at least a 10min walk a head of us. We arrived at 15 after and there he was waiting, no questions asked, as I apologised for our tardiness. We arrived back in Klong Nin beach just in time for our favourite evening activity, watching the sun sink into the Andaman Sea. We then went for dinner in a place across the road from our hotel called Richie's, it was okay but once again, no spice in my meal. Rebecca opted for a baked potato, nice and bland for her sensitive stomach but a bit of subsistence too.
Rebecca called it a night, while I ordered another beer and headed for the beach. I sat on the beach for a while taking in the sound of the waves and looking at stars. The beach was empty except for the silhouettes of couples out for an evening stroll against the green glowing lights from fishing boats on the horizon. I think I could have sat there for much longer, but my beer was out.
Back to the hotel for a restless nights sleep on a stone hard mattress. But happy to finally be living the island life.