Today started much like yesterday did. With Rebecca sick again, she seemed to feel the worst in the mornings and start feeling better by the afternoon. I had to hand it to her, as awful as she felt she didn't let it stop her enjoying the rest of the day. I on the other hand slept great! But overnight my sunburn started to show it's true colours – nearly a purple burn – it was bad. We met Delphine for breakfast across the street at Monkey Business, where I started the day with chicken, basil and rice and of course an iced coffee. Rebecca stuck to lemon and honey tea. We then headed to the pharmacy to find cooling creams for my burn. When we got back to our bungalow the local kittens were out in full playful force, we joined them while waiting for our taxi to the ferry port.
When we arrived at the port our driver put stickers on our shirts stating which ferry we'd be getting. We're then herded around like cattle by people checking which sticker we had. No tourist really knows where we're going or what we're doing. We just blindly follow someone pointing,  go stand next to other people with the same colour sticker, until someone else tells us to go somewhere else. But it all seems to work out in the end. We were finally directed it was time for people with our sticker's to board. Amid men yelling "DO NOT RUSH, there is plenty of room for everyone!" we headed towards the top level and easily found some seats.
The ferry trip was 45min easy. When we arrived at Koh Phi Phi harbour we could see the beach packed with people and shop fronts lining it. As normal loads of touts met us off the ferry, asking if we needed accommodation, this time we had booked again and had directions. Thai directions are similar to Irish directions, as they seem ridiculous but somehow work. The following were our directions in a town we'd never been to before:
Go to the viewpoint (ask someone, everyone knows it)
Go past the viewpoint steps
Go up the "other steps"
Hotel on left.
Bingo! 10min later we were there. Unfortunately we had to pass several garbage dumps and an open air waste sewage facility (the smell!) on the way. It was immediately apparent that this was a party town and not what we were looking for. Booze and bikini's sums it up nicely, perfect for a frat party. There was a ridiculous amount of tattoo parlours offering "traditional bamboo tattoos" most looked like a health and safety hazard. In between the tattoo parlours were seedy 'massage' parlours. We'd been to Koh Phi Phi less for 15 minutes and we were already looking for ways to get off the island.
When we reached our hotel, we were not surprised to find a very basic room with unfriendly staff. We then set off to see what we could due for the remainder of the day that didn't involve drinking or trying to "hook up". We grabbed some lunch, smoothies and noodles, and asked a few tourist agents about a sunset cruise but found most had already left for the day. Looked like we were stuck walking around Tonsai for the day.
With the rest of the day ahead, we decided to check out Tonsai beach, which was crowed with people. I watched our things while Rebecca went for a swim, when she came back to switch with me, she said there was brown 'sludge' floating in the water along with other rubbish… I decided to forgo my swim. We walked on, heading back towards the viewpoint to hike the 30 min to the top of the mountain for our favourite daily ritual of watching the sunset. The hike was worth it, even with the  100 or so other tourists, we watched the sun sink behind the island. With the sky a deep pink we headed back down stopping for a break at another viewpoint (with no one there). There were so many steps down, and my knee began to hurt out of nowhere (little did I know it would persist for the next month).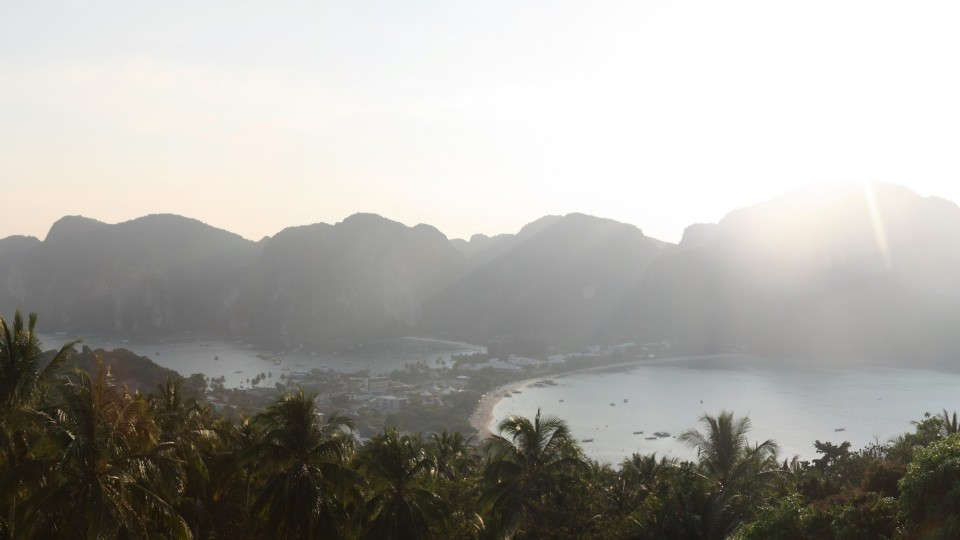 Sweaty and dirty, we headed back to the hotel. On the way we saw  advertisement for a ferry to Ko Jum. We had read about Ko Jum in our guidebook and both were very interested in going but getting there didn't seem very straight forward. We enquired with the woman working there about getting to Ko Jum, she was a very helpful German woman (when in doubt find a German!). She not only organised the ferry for us but also booked us onto a half day longtail tour around Koh Phi Phi which would take us out to the famous Maya Beach (made famous by the film). We were DELIGHTED that we were going to Ko Jum! We floated our way back to the hotel giddy with excitement. Who cared at that point that we didn't have accommodation booked… sure it would be easy right?
We showered up and headed back out in search of a massage for our aching legs. Massage parlour after parlour looked sketchy, young girls hanging out front, cat calling to the guys to come in for a massage. Parlours where they took you into a private room and closed the doors behind. We just wanted the simple pop in sit in a chair and get a foot massage kinda place. We finally found one that looked our style. It was fantastic, one of the best massages I had since Chiang Mai.
For dinner we headed to a place recommended by the hotel, it was crap. We ordered a plate of grease with some nuclear spring rolls that when cooled were hard as a brick. At least I followed it up with some delicious coconut ice-cream from across the street. We walked a bit around Tonsai which was just annoying as the drunks were coming alive. We headed back to the hotel, were were took a quick swim in their over chlorinated pool which severely hurt my sunburn.
All that aside, we were going to Ko Jum in less than 24hrs and would be off this tourist trap hell of an island.